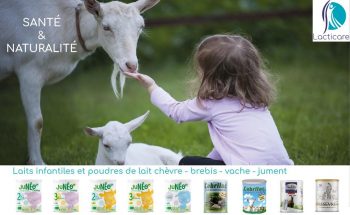 Discover LACTICARE, the powdered and baby milk sector of the FIT company
In 2019, FIT took over the "baby powders and milks" business of the ULVV Co-operative (Union Laitière de la Venise Verte) based in Maillezais in the French department of Vendée. The business was purchased by Lacticare, a company in which FIT is a majority stakeholder alongside ULVV and the LOU BIO company (a company specialising in organic foods).
Lacticare is above all an association of skills in the service of the production of baby and alternative milks.
In France (department of Vendée), in the heart of an unspoilt environment, Lacticare formulates and designs powdered baby milk and alternative milks which contribute to dynamising the local economy and maintaining local employment: cow's milk, goat's milk, ewe's milk etc., from carefully selected, traceable, traditional and organic raw materials.
Focussing on milks of French origin is obvious for Lacticare, within a sector-based dynamic. We care about our local producers, so they are associated in our corporate governance. The very essence of our philosophy is short circuits, traceability, quality and food safety for a sensitive population. Working with Lacticare means choosing a unique partner well-known for its expertise and the quality of its products.
To ensure the quality of our products, Lacticare attaches great importance to the manufacturing process of its products with this imperative constantly in mind. We are particularly vigilant regarding safety regulations at each stage of manufacture and our colleagues are all trained to this end. The milk collected is carefully tested before being accepted. Production is carried out under the highest hygiene standards complying with the strictest health safety regulations. Each recipe is produced with the greatest care in order to retain its nutritional properties.
Discover the products manufactured by Lacticare: Traditional and organic baby milks (based on goat's milk and cow's milk), organic cereal protein supplements, traditional and organic powdered goat's milk, traditional and organic powdered ewe's milk, specific recipes.