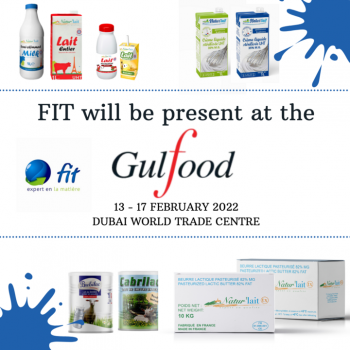 Lacticare will be present at the next edition of Gulfood from 13 to 17 February 2022
GULFOOD is one of the most important agro-food exhibitions worldwide: 2,531 exhibitors, 59,378 professional visitors, 162 countries represented, 20 exhibition halls displaying product innovations. It involves the leaders of the agro-food industry. It is the largest annual food supply showcase in the world.
As every year, FIT will be present to welcome you to its stand and present to you our wide range of dairy ingredients for the agro-food and food service industries, as well as its innovations. Thanks to our competitive and varied sourcing, we are able to offer various origins for our products, essentially European and South American.
Dairy ingredients for the agro-food industry: dairy or sweet cream butter in 25 kg blocks or 10 kg cubes, UHT or pasteurised cream in a bag-in-box or tank, powdered full-fat, whole, High Heat, Medium Heat, Low Heat, ADPI or instant milk in 25 kg, 10 kg or big bags, refatted milk powders, Cheddar-type industrial cheeses in 20 kg blocks or blocked or grated mozzarella, lactose and whey etc.
Dairy ingredients for outside catering: 35% fat UHT cream for professionals in fine cuisine and patisserie, special pastry butter, special sheeted butter for lamination applications in the production of bakery goods.
Our range of Natur'lait brand UHT milks: Whole unflavoured milks, semi-skimmed, full-fat and organic, strawberry, banana, vanilla and chocolate flavoured milks, either Natur'lait brand or your own brand. 1L, 500 ml or 250 ml bottles – 1L cartons (Edge or Slim) or 200 ml cartons with a pull-up straw.
Our innovations: Powdered goat's milk for babies 
In 2019, FIT took over the powdered and baby milk business of the French ULVV co-operative in the French department of Vendée creating the LACTICARE.
Through this company, FIT is now able to distribute powdered goat's milk for babies via its export markets.
It will therefore be able to offer its clients in the Middle East and the zone covered by the Gulfood salon with powdered goat's milk for babies under its own label or the client's label.
Contact: Marc Boulouis, Export Director, marc.boulouis@fitsa-group.com